BLOG: Grower report Endhoven Flowering Plants
Chris Endhoven is the son of a horticultural farmer, and wanted his own nursery from an early age. He is a grower in heart and soul, and supplies us with top-quality flowering seasonal plants. He was able to make his dream come true on a piece of land close to the auction in Westland.  What makes his green heart beat faster? We visit the family-owned company Endhoven Flowering Plants, where Chris immediately shows us around.
Welcome to our company. Our main crops are Cyclamen, Aster, Poinsettia, Campanula and Osteospermum. We mainly grow plants in 10.5-cm pots.
By the time I was 12, I already knew that I wanted to have my own plant nursery when I was older. My father was a grower, and cultivating bedding plants at the time. After going to horticultural school, I worked as a grower at another company, but by the age of 22 I rented a nursery where I started growing bedding plants. Three years later, I managed to buy a 1-hectare nursery. To fulfil my dream, I started looking for a piece of land to build on.
What was your dream?
I wanted to work with a small, friendly team in a healthy company with a good turnover, which I hoped to achieve by building a modern nursery for seasonal products. We were able to buy a piece of land at an ideal location, which now contains my home and our beautiful nursery. The logistics in the greenhouses are automated, so we can grow and deliver a relatively large number of plants with a small workforce.
Why were you attracted to the horticultural profession?
I supply flowering plants that make people happy, and at the same time I'm an entrepreneur. The decisions I make determine my success. One example is the selection of poinsettias. I wanted to grow both standard colours, but also offer my customers a wider range with special colours. Sometimes, new species become an instant hit, and sometimes demand falls back later. By analysing the figures, I make forecasts for the future and decide my range for the following year.
Since I grow seasonal products and still want to deliver year-round, I have more than 10 different varieties that flower one after the after, and partly overlap. The company is always changing, which requires a lot of effort and experience. Together with my team, we make sure that everything grows at its best and thrives in our greenhouses.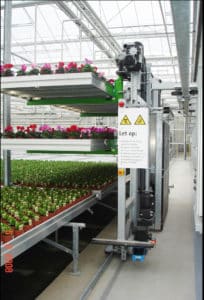 Has your work ever kept you awake at night?
Fortunately, I no longer have any sleepless nights, but I do get concerned sometimes. That could be if I have a big order approaching, and I'm not sure whether the plants will be too premature or past it at the time of delivery. Luckily I live right next to the nursery, so I can always check if everything is going well.
What are the advantages for a garden centre in selling your products?
We always go for the best varieties and the highest quality. We're not interested in cutting corners if this compromises the quality of our end product. We test lots of new varieties, and add the best to our range. Everything can be ordered by variety. We've noticed that customers who start with mix trays and learn which types are best for them, increase their sales if they subsequently use this information to order per variety.
As a customer, what does Javado mean to you?
When I had just started my company, Jaap van Dool (ed. JAap VAn DOol, the founder of Javado) regularly paid us a visit. I'm really happy that Javado has grown into one of my biggest customers.
How do you see the future?
I've noticed that the popularity of seasonal products is increasing. Some species fall out of fashion, while demand for others grows. That's what I like about our company, because our experience and our modern greenhouse means we're flexible. We can scale up or reduce certain species, or even switch to other seasonal products. We're always testing and analysing the market. In fact, that's where my passion lies. Always improving, and always on the move.
Published on: 15 October 2019