Kwekerreportage: Roma Nova
The bulb-in-pot brand 'Roma nova' enjoys a permanent presence in our webshop every bulb season. Don't miss out on the basic lines, in their apple-green cultivation pots. The arrangements themselves are minor works of art. In this article, we introduce Erik and Brenda Willemse. How did this couple manage to place such a strong brand on the market? As I look around me in their cool office, I can see the brand reflected in the design of the building and the interior. Something tells me that an eye for detail is important to them.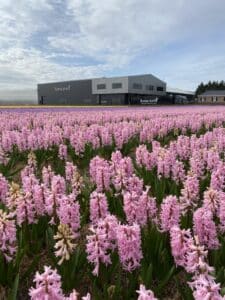 "We're celebrating our 20th anniversary this year!" begins Brenda enthusiastically, as we sit down for a cup of tea. She talks about the series of coincidences that led to the start of the company. I quickly open my notepad and start making notes.
"I'm absolutely fascinated by people's behaviour. When I worked in a perfumery, I used to watch how customers behaved in the store. That was how I learned that the way you present products and the way you address people directly effects the way the buy. Our store opened an extra branch, and I was lucky enough to be appointed managed. I learned so much in that time, and it's still helping me to this day.
Erik's parents ran a nursery, but he was more interested in trade and wanted to see something of the world. After gaining experience as a travelling salesman on a fixed route, he set up his own sales route and sold plants in England. He used to buy hyacinths and daffodils from a small nursery. When its owner passed away, he decided it would be a good idea to buy it so that he'd have somewhere to park his truck, and the nursery staff could continue the business by themselves. However, a chat at the kitchen table one day soon made it clear that we were both bursting with ideas and energy to turn the nursery into something really special. I quit my job and Erik sold his company, and that's how Roma nova was born.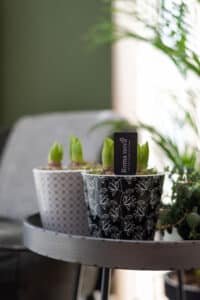 Before long, we were asked if we could supply bulbs in pots with added value; maybe some attractive ceramics or a basket. I was all in favour, but on the condition that I'd have complete control over everything. That was because I knew that I had a different vision in terms of taste and design than what the trade was familiar with. They were always counting the pennies. Well, a plant marker might cost a few cents, and a cover pot slightly more, but I look beyond all that. My starting point is a charming, attractive product with an eye for detail, even if those details do cost that little bit more. Simply follow your passion; that's the motto I've always stayed true to. It did lead to some discussions with traders early on, but I knew that we'd be doing the consumer a disservice if our only ambition was to minimise costs. I had a look around some dealers in decorative materials, and designed our first arrangements. Sales went really well, and the next stage was even more fun: buying the hardware directly from manufacturers in China. As a result, we now have exactly the shapes and patterns I want made, and these are unique items that nobody else has.
Designing and ordering all our hardware is still my core task. I'm inspired by fashion and trend watchers, and we also monitor our data very closely. This allows us to keep abreast of trends, and at the same time have the kind of arrangements that our customers expect."
You started your career in retail. Do you often visit garden centres to see how the products are displayed?
"I certainly do! I enjoy visiting garden centres who obviously have a passion for what they do, but sometimes the way our products are presented can really get me down. Bulb-in-pot products are often kept in an unheated greenhouse, which is fine for basic pots with no added value, but doesn't display our arrangements at their best at all. Our products are lifestyle items, designed to create atmosphere in people's homes. For this reason, they deserve a stylish presentation in the hothouse. The right environment increases the value of our products. That also explains why major lifestyle brands such as Mica and PTMD invest in attractive sales furniture especially for their products. So, an appeal to all garden centre staff; please treat potted bulbs with added value as lifestyle items for the living room."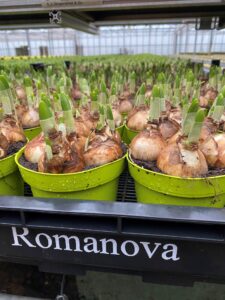 What are your plans for the future?
"We've just taken over our neighbour's buildings, so we can continue to expand. Our company is extremely important to us. 20 years ago, when we started, I was heavily pregnant with our first child. He is now 20, and we also have a 16-year-old daughter. We involve our family in the business. They know exactly what's going on, and notice the satisfaction we get from our work. In turn, the younger generation energises me. I've no problem delegating work. When I see how well our young employees help our company progress, it makes me really happy."
Published on: 21 November 2022