Kwekerreportage: Hoogeveen plants
If you run a garden plant department and order plants from Javado, there's a good chance you regularly receive products from the nursery Hoogeveen Plants. Bob Hoogerdijk explains why this is such an excellent choice. Before the interview, we have a look around the brand-new growing location. Given that there are semi-transparent solar panels on the roof of the greenhouse above me, it's only logical that we soon find ourselves discussing climate-neutral cultivation, but let's start at the beginning.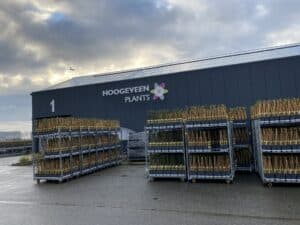 What were the origins of this large, modern garden plant nursery?
'Siem Hoogeveen's father was a farmer, but all Siem wanted to do was grow trees. He managed to transform a piece of pasture land used by cows into a nursery with various trees and shrubs. The nursery grew slowly until the 1990s, when the market changed. Garden centres began to form alliances, creating a demand for larger, uniform batches of garden plants in pot sizes that were easy to handle. Siem saw opportunities up for grabs, and decided to specialise in growing a standardised range of climbing plants. That laid the foundation for the company as we know it today.
The company started growing Helleborus to spread its activities more evenly throughout the year. Did you know that we were the first to breed H. Christmas Carol?  It was during this time that I got involved with the nursery. I had started growing bamboo and grasses when I was 18, and I was full of ideas. These ideas were too big for my small nursery, so my dad suggested that we go and talk to Siem. It clicked, and we felt we could complement each other well. I took both my ideas and my grasses with me to the nursey, so grasses are now an integral part of the nursery's work.'
Can you give some more details about your range?
'The main product groups are climbing plants, organic fruit plants, grasses and Helleborus. We also grow ferns, garden cyclamen, conifers and a fantastic range of Agapanthus.'
We've already spoken about your heat pump and solar panels. Tell us more about your vision on sustainability.
'Our mission is to make the world greener with plants, because plants have an amazing positive impact. They help lower temperatures in cities and increase biodiversity. We believe that because our plants make a positive contribution to the consumer's immediate living environment, it's only logical to grow them sustainably. We don't want to introduce even more disposable items into the world! Our plants continue to grow and flower for years after they've been sold, but a sustainable plant must also be produced sustainably. Our aim is to be completely climate neutral by 2030, and we've already made a lot of progress.
Our 1,350 solar panels and the green wind energy we purchase provide us with the power we need. We keep our feet warm with the heat from the heat pump. All our trays and pots are 100% recyclable and made from 100% recycled plastic. If we have too much water, it's slowly returned to the groundwater via a wadi.'
And what's your view on using peat in potting soil?
'We invest a lot of time and money in reducing dependence on peat. I'm happy I can share some information about what we do in this area with the readers of your magazine. It's a very complicated matter for a grower, because if the ingredients in pot soil are changed, you have to learn how to grow a certain plant again. The entire fertilisation and watering programme has to be reinvented. If you want to be sure that the results are good, you have to spend several years perfectioning this. We also have to take some big risks, because plants are preferably watered and fertilised in batches, and not in separate groups.
We already grow Agapanthus, bamboo and a large part of our Helleborus in pot sizes p12 to p19 without peat.
You've even managed to obtain the designation 'organic' for your fruit range. Tell us more.
'When it comes to edible fruit, you want to be absolutely sure that it's unsprayed. You can simply say that your plants are unsprayed, but that means nothing to the consumer. If you can prove it with the organic quality mark, garden centres and consumers know exactly what they're getting. A grower has to take a wide range of aspects into account to be successful in this area, but it's a very satisfying process. It starts with the nursery surroundings. Part of our land is given over to nature. All kinds of plants grow in these parts, and attract aphids! In turn, these aphids attract all kinds of useful insects that are only too glad to eat them. These useful insects also keep all our fruit plants at the nursery in good condition. It means we never have a major outbreak that we have to fight with chemicals. Aphids should be left alone, otherwise you also lose the useful bugs that can be so helpful. Attitudes among garden centre staff and consumers are shifting in this respect. We all have to accept that it's only natural to find a few bugs in a plant. We've noticed that our 'Tasty Green' range of organic fruit plants are in big demand by retailers, who respect what this range represents.'
Last year, we introduced your new range of Agapanthus to our customers. Was it successful, and what are the latest developments?
'What's funny is that initially we didn't want to add this product to our range. We received some test specimens and left them to their lot in a draughty place somewhere. Weeks later, we were amazed to find the plants in excellent condition and still blooming. These are future-proof patio plants! They need very little water, and thrive in full sun without care. We're in an exclusive partnership with the South African breeder together with two other European growers. The new genetics are fantastic. We were happy with progress last season, and it was nice to see Javado highlighted them among its customers.
In addition to popular varieties such as 'Fireworks' and 'Poppin' Purple', we're working on the new variety 'Black Jack', which has velvety dark purple flowers. We think that Agapanthus will become better known in the future, and be given a permanent place on the shop floor.
In your range, I regularly come across the term 'Our Choice'. What does this mean exactly?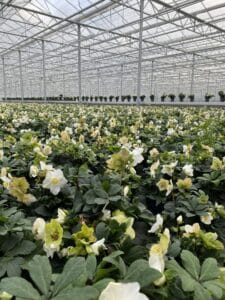 Tim, your salesman, started with us as an intern many years ago. Around 2012, we noticed that the sales figures of our climbing plants had stagnated, so he was given the task of finding out why. The conclusion was that Hydrangea and perennials, among others, were grown to look at their best earlier in the season and we had more competition on the shop floor in the spring. We also received feedback from customers who were disappointed with the appearance of climbing plants. We decided to do better, and found strains that are stronger, healthier and flower earlier yet continue to bloom all summer long. We wanted to phase out older varieties, but some of these are very well known and the trade keeps asking for them. So we still have these varieties for the enthusiasts, but go for the 'Our Choice' range if you're looking for the best varieties.
Finally, let's talk about the new building. What went through your mind the moment this major project was completed?
To be honest, there was no such moment for me, as I was so involved with everything on a daily basis. At a certain point, I started putting the plants on the cultivation floor, and before I knew it we had switched completely. A bit of a shame in fact; maybe we should have celebrated the moment. I see the amazement in the faces of visitors who come here for the first time. This project has strengthened our company in several ways. Thanks to the expertise shared by all our colleagues in the various departments, we've created something unique. What's even better is that it really works in practice. We're all very proud of this.
Published on: 6 Fevereiro 2023