BLOG: Van der Burg nursery
The Van der Burg Nursery only grows one type of plant; the Aloe vera. Make no mistake however, there's more to this unusual plant and very special company than meets the eye! For example, it may well be the youngest company in the Netherlands. Find out more in this inspiring interview with Freek Weststein.
Why do you specialise in Aloe vera?
'We changed direction at the nursery a few years back. We used to grow a range of plants, including Aloe vera. It was a pretty hectic time, and we really wanted to specialise. The Aloe vera really stood out for me among the other plants. I'd already realised that the market for green houseplants was growing, and there was something special about this plant. We regularly received e-mails and phone calls from consumers who had found out who we were through the label, and wanted to know if the gel was edible or suitable for the skin. Consumers never asked us anything about other plants.
I travelled the world to find out the real potential of the Aloe vera, and we decided to dedicate all our activities to this plant. At the same time, we also reinvented our company.'
How do you mean, exactly?
'You won't believe it, but the average age of the people working here is 16. Even I first came to work here when I was still at school. By the time I was 18, I'd already been given a lot of responsibilities and freedom. I also like to give other young people such a unique experience. Now we run the entire nursery with students and young people, who work in every corner of the company; from inserting cuttings to preparing orders, personnel planning, marketing and invoicing. How's it possible? We've written all the processes down. With the right preparation and following clear protocols, everyone knows exactly what to do. Imagine a school pupil comes to work here for a few hours. They're told what's expected of them, and they can get started right away. Our reward system allows people to grow in the company. We want the atmosphere here to be positive, so we pay attention to everyone. That's a healthy challenge with about 50 pupils and students to look after. They also say that they really enjoy working among others of the same age. We've built up quite a name for ourselves locally, and we've never had to advertise for staff.'
What's so special about Aloe vera?
'There's almost too much to list. This ancient plant is almost impossible to kill for a start, and it contains beneficial substances that haven't been found in any other plant. The cosmetics industry produces countless products with Aloe vera gel. The pure gel itself is hard to come by, even though there's actually nothing better. For your skin and hair in particular, the pure gel is a real miracle cure. I'm going to show you how to harvest the gel shortly, so you can see it for yourself.
We grow our plants without chemicals, so when you have an Aloe vera in our signature green cultivation pot, you know you can confidently start working with it straight away.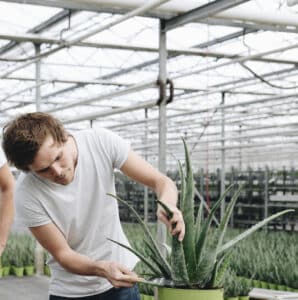 I'm looking forward to the demo!
'Aloe vera grows from the centre, so I remove an outer leaf. I can do two things with this leaf; cut off a slice every day and use the gel in it, or cut open the whole leaf and take out all the gel with a spoon and keep it in a jar. If you take out all the gel, you'll notice how thick it is. The best thing to do is put it in a blender or use a hand blender for a few seconds, which will make it nice and runny. Try rubbing it in your hands. How does it feel?
It looks like a sticky gel at first, but it's absorbed immediately. I wasn't expecting that. The skin absorbs it within seconds. Yes, it feels great. So, you can also use it for your hair?
Definitely! It leaves your hair beautifully soft and shiny. You put a big dollop of gel in your hair, wait 15 minutes, then rinse it with hot water.'
How are the sales of your plants?
'Demand increased enormously in 2020. We are, of course, riding the wave of the increased desire for a green living and working environment. Besides this, however, more and more people are discovering the nourishing effect of the gel. We've been washing our hands a lot more, so our skin can use some extra care and pure Aloe vera gel is the ideal remedy.
What's more, the gel does more than help dry skin, it's also a great product for skin conditions such as eczema and rosacea. The smallest blood vessels in our body are called capillaries. They carry oxygen and nutrients to our cells, but can become clogged and lose their function. Aloe vera gel can dilate these capillaries by 35%, which is fantastic. Blood circulates more easily in the blood vessels, so these vessels recover faster and detoxify better.'
Do you have any tips on how to increase Aloe vera sales in the retail environment?
'We supply a large chain of garden centres in the Netherlands. They share the sales figures of our product with us, and we've noticed that sales in towns and cities are much higher than in the rest of the country. In urban garden centres, Aloe veras are often bought by people who originate from a different culture. People from outside Europe are much more aware that this plant has more to offer than its beautiful ornamental value. How great is it to harvest a leaf from time to time? Garden centres might do well by sharing the story behind the plant, for example by giving demos to customers.
One thing that garden centres should be careful with is to prevent leaves breaking. The plant is at its best when it has soaked its leaves with moisture, as this makes it beautifully full and gives it a fresh green glow. This is how we prefer to supply our plants. The problem is, the leaves are very vulnerable to breakage at this point. It's not a problem for the plant, but consumers obviously prefer plants that are intact. The solution is to store them carefully and not too close to each other.
Our plants have an excellent shelf life. Even without care, they retain their attractiveness for weeks.
It's quite cold in the greenhouse. Don't these plants need heat to grow?
'Did you know that these Aloes can withstand temperatures from 5 oC to 40 oC? You're right though, we could grow them much faster with higher temperatures, and plenty of water and light. The downside would be a lower quality product. We grow them exceptionally slowly. This results in very resilient plants with higher concentrations of active substances in the gel.
In addition, in terms of sustainability it's better to move with the seasons than against them. That's why it's cool in here in the winter.
Published on: 6 April 2022