BLOG: grower report Boers Tuinbouw
Boers Tuinbouw is located right next to the beach on the North Sea coast. It's always been a pleasure ordering bedding plants from this breeder, and now I'm paying a visit to find out more about its history. Gerrit Boers and his son Leon are about to show me around the entire company, but first we sit down for a chat over a cup of coffee.
How did Boers Tuinbouw come into being?
My brother and I started a horticultural business back in 1983. In the beginning we grew radishes, but soon branched out to include cut flowers. My neighbour then introduced me to cyclamen cultivation. However, growing radish and cyclamen simultaneously proved a bad idea, as they both require work at the same peak times. We eventually decided to abandon radishes, and combine cyclamen with bedding plants. Since then, my brother has stopped working in the company, and my son Leon has joined.
How would you describe your company?
We're a proper family business, built around a small team, and great believers in the importance of training young people in the horticulture trade. In some ways, we're like Ajax football club: we've got a great youth training scheme, after which the talents migrate to the larger market players.
We're passionate about quality, and creating the best products on the market is what really drives us. Our unique location helps in this respect.
How does it help?
As you can see, we're right on the coast, so subject to a maritime climate. The sea evens out the weather, so it never gets really cold in the winter or really hot in the summer. The other benefit is the salty sea air which drives insects away, and means we have fewer problems with bugs. There is more light here and less evaporation thanks to the mild temperatures, which means less watering is required. As a result, the plants naturally grow in more compact shapes.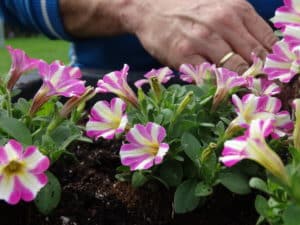 There are lots of varieties and brands of bedding plants. How do you decide what to grow?
We get a good overview of all the basic material available at the Flowertrials®. However, we look beyond catchy brand names. Bedding plants have to make consumers happy, as they literally bring colour into their lives. Bedding plants have to continue growing and flowering well into the autumn, that's what consumers really enjoy, so we select species that ensure this satisfaction. We have a simple method for finding out what's best; we test plants ourselves! That means I first test species at our campsite, before they can join our range. The excellent flowering of petunia Nightsky, for example, surprised me. Petunia Babydoll, on the other hand, did not impress me, so no matter how beautiful the flower might be, we're not going to grow this species.
How's the relationship with Javado?
We enjoy a great relationship based on mutual respect. Some traders put you under pressure to cut a couple of cents off the price, and if they find someone else even cheaper, they disappear from the scene. I'm not interested in that kind of customer, but fortunately Javado doesn't act in this way.
What are your plans for the future?
We're working very hard on measures to make cultivation sustainable. The demand is coming from the market, but we're also happy to play our part anyway, as we believe it's logical and important. We recycle all our water during cultivation, and also provide a large part of our own energy by generating green electricity with solar panels. Our pots are made from recycled plastic, and can be fully recycled again.
Basically, we're a dynamic family business. We've been supplying quality products with a long shelf life for generations. Alongside sustainability and delivery reliability, these are our core values.
Published on: 10 March 2020