BLOG: Snepvangers Garden Plants
We've finished the tour, and sit down at the table to continue our chat. Now that I've got to know Mark and Stephan well, I've come to the conclusion that they want to become the biggest grower with a range of garden plants for the autumn. However, a healthy dose of modesty prevents them from shouting this out from the rooftops. 'Maybe we're there already,' Stephan remarks dryly. Skimmia is the standard-bearer of their range. Ready for almost 40 years of Skimmia experience? Read on!
Stephan:
My father wanted to start his own business, so he bought an uninspiring cornfield in 1983. He turned it into a container field, and had a greenhouse built on it. His vision was to grow garden plants in containers, which was quite unusual at the time. Skimmia played the leading role right from the earliest days of this nursery.
I started studying horticulture, with a specialism in cell biology. Afterwards I worked in a laboratory, but I missed being outdoors and the plants. I joined the business in 2001, and I haven't regretted it for a moment.
Mark:
I already used to work at the nursery as a Saturday job when I was 13. Over the years, I've got to know the nursery inside and out, and Stephan and I are now partners. We've always been involved in sales together, now we have another salesperson.
Stephan and Mark are very welcoming and open. They let me look into all the company's nooks and crannies, where many test species can also be found. I ask them how they came to specialise in garden plants that are highly ornamental in autumn and winter.
We owe all that to the Skimmia. What's unusual is they aren't sold in the spring, but in the autumn and winter. Skimmia is the best known ornamental shrub that gives colour to the range in these months, but certainly not the only one. We wanted to become a one-stop shop for these products. These days we can make very attractive composite trolleys, or supply our entire range through a finely-meshed distribution network.
"Skimmia is a resilient garden plant that's easy to maintain, but by no means an easy plant to grow."
Why is Skimmia such a popular garden plant?
With its green foliage and wealth of coloured flower buds, Skimmia adds colour to the garden in winter. The rich bloom is a welcome source of nectar for bees in early spring, at a time when few garden plants are in flower. Skimmia is also an easy-going garden plant that can be placed in the garden or in a pot on the terrace. You should bear in mind that this plant likes the shade, so don't place a Skimmia in direct sunlight.
The Skimmia is by no means an easy plant to grow. The problems begin with being able to create the desired numbers. Skimmia is always propagated by cuttings, which can be taken from the plant in the summer. However, the Skimmias used for cuttings no longer bloom that season, so they have to stay at the nursery for an extra year. There is also a lot of manual work involved. The plants are regularly moved, sorted, cleared of weeds, and so on. Fortunately, much of this work is carried out in the summer. We're therefore well-known among students from the surrounding area who are looking for a nice holiday job.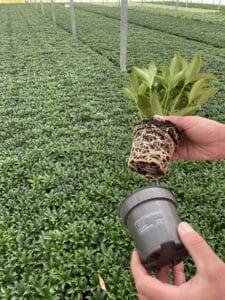 How old is a plant when it leaves your nursery?
We grow the plant completely ourselves. The process starts with planting the cuttings in the pots. We cut about 25% of the cutting material from our own plants, and obtain the rest from cutting suppliers. The smallest plants in 9-cm pots need just over a year, while the large sizes are 6 years old before they leave our nursery. Most plants are about 2 to 3 years old.
The best-selling Skimmias are still the male varieties such as 'Rubella', but the female Skimmia is gaining in popularity, such as our favourite variety 'Temptation'. These plants have large, bright red berries. These only develop after the plants have been pollinated, which is where our cheerful employees, the bees, come in. It all goes to show just how dependent we are on nature, so it's no surprise that we attach great importance to making sure our business processes are sustainable. Our pots are made of recycled plastic, and very easy to recycle again, thanks to the grey colour. We collect all the water for reuse, and we use predatory mites to combat spider mites.
What are your plans for the future?
Our busy season will start again at the beginning of September. I'm looking forward to it. We had an extremely cold spring which benefitted the Skimmias, they're looking better than ever before. We'll also be introducing various attractive novelties, such as a variegated garden gardenia, the Leucothoe Firestar and the Viburnum Coppertop.
For the future, we plan to expand our range, and further deepen the relationship with our regular customers. In terms of the latter, we're building a new delivery warehouse, where we'll have more space to improve our logistics and fulfil customer-specific wishes.
Expanding the range is something that takes a lot of time and energy. My father still breeds Skimmias as a hobby, so some new varieties will appear in the future. We also work well with Van Vliet New Plants and Plantipp (see Javado Magazine #9). We regularly receive test varieties, such as this variegated, hardy Fuchsia.
We only add a new article if it really adds value to the range. A good example of this is Skimmia Perosa, which has proven to be very popular since its market launch. The colour pattern on the leaves is both unique and changes colour throughout the year.
There are lots of pretty garden plants that we can enjoy in the autumn and winter. The plant sector is doing really well at the moment. If that means we can enjoy healthy growth together with our regular customers such as Javado, then we'll be two very satisfied people.
Published on: 14 Outubro 2021