BLOG: growerreport Altanova
Reinier Hoogendoorn runs a very special nursery together with his father, two brothers, and two uncles. They enjoy devoting their time to plants that are difficult to grow, which they call their 'pearls'. Over the years, this has led to an unusual range of products. I'm interested in getting to know this nursery better. Fien the dog accompanies us enthusiastically with her tennis ball.
How did you come up with the name Altanova?
One of the plants we've been growing for years is Stephanotis. Another grower also grows Stephanotis, and by pure coincidence they share our surname Hoogendoorn, despite not even being family! This often led to confusion, so we renamed our company Altanova. Alta means high, and reflects the high quality we strive for. It's also present in our name Hoogendoorn, as 'hoog' is Dutch for high. Nova means new, and represents the improvements we're always searching for in our plants and methods.
How do you benefit from growing 'challenging' plants?
Our Jasminum and Stephanotis both need a lot of work. For example, we have to suspend a wire for each and every Stephanotis, which the plant uses as a support to grow around. When the branch is long enough, we cut the wire and tie the plant to the rack or the arch. Jasmine has to be tied manually twice around the arch during cultivation. We employ more than 150 people at our nurseries. Not many growers are capable and willing to grow these plants. We make sure we don't flood the market. The disadvantage is that nobody designs ready-made systems for our cultivation. We have to initiate and pay for any innovation personally.
"We believe that the easiest way isn't always the best one. Our aim is to make sure everyone has access to the most unusual plants, no matter how difficult it is to grow them"
You grow an unusually wide range; house plants, tub plants and garden plants. How did this come about?
There are currently 6 family members working at our different sites. We all share a passion for growing plants, so we can spread our talents over different areas. The advantage of this is that we also spread the risk, and where possible we can plant a different crop when the first has finished, which means we can use our cultivation area twice.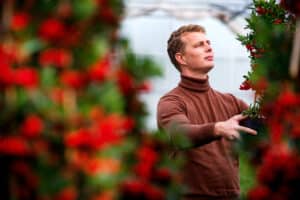 How is innovation related to your work?
Our door is always open to beautiful 'pearls' from the world of plants. We prefer to focus on niche products, such as the Kniphofia we're growing this year in a couple of  beautiful colours. We're also working on expanding the range of jasminum for the future. After the summer, we'll be placing Pyracantha 'Red Star' on the market.  Another lovely plant in the pipeline is Salvia Salgoon.
Can you tell us more about Salvia Salgoon?
This flowering outdoor plant isn't a perennial. It will be placed on the market as a patio plant. The plant starts flowering around May, from which point on it's a joy for the consumer to behold. The plant keeps on flowering and growing until the first frost. I had it in the garden myself last year, where it really stole the show.
We also have a nursery in Portugal, so we can get plants like the Salvia on the market early in a beautiful flowering stage.
You joined the nursery in 2019. How are you enjoying your work?
I'm really enjoying it. Our company is very diverse, so my work has plenty of variety and there's lots of room to do business. I regularly direct the activities at our site in Portugal, and I'm busy updating our range, but I also really enjoy simple hard work in the greenhouse. That helps me clear my head from time to time.
Published on: 19 May 2020