BLOG: grower report Smit Kwekerijen
The trendy plants in the Eden Collection are indispensable for lots of garden centres. Smit Kwekerijen, the founder of this collection, is therefore a leading grower, with whom we enjoy a lot of positive cooperation. However, we don't visit the nursery very often, because it's located in the rural northeast of the Netherlands, far from the busy southwest where we have our headquarters. It turned out to be well worth the long drive, because I discovered a whole new plant world.
Obed Smit, can you tell us a little about yourself and the nursery?
Back in 1985, I started working in my granddad's greenhouses to see if I'd inherited his green fingers. It turned out that I was a man of my times, because I grew Geraniums that were in great demand. After a spell growing Fuchsias and Chrysanthemums, everything changed when I met 'plant hunter' Lammert Koning. He travelled worldwide in search of special plants. The idea fascinated me immediately, and together we visited places around the globe where plants had never been searched for before. That was the start of the Eden Collection.
What exactly is the Eden Collection?
My objective is to create beautiful plants that feel at home in the living room. I started to build my own living database based on my finds from all over the world, and hired a breeder. We went to work in a large greenhouse full of special plant genes. We studied the varieties resilient enough to be grown commercially as houseplants, what happened if we cross-bred different species, and the best way to propagate the plants for cultivation, among other things. We experimented a lot, and we achieved a lot.
We walk through breeder Carla's domain: the test greenhouses where hundreds of plant species are growing, and where Obed points out a very beautiful leaf begonia.
I found this Begonia in Vietnam. It looks like the Iron Cross begonia, but it's a bit more robust and has attractive dark brown edges to its leaves. In recent years, jungle-like plants with large, unusual leaves have become very popular. We're working very hard in this area, one example being the Philodendron Hastatum we placed on the market, but there are lots of other interesting projects underway. These plants are bigger than the compact plants in the Eden Collection. We're supplying them with a larger label under the brand name 'Eden Jungle'.
"There are still an unlimited number of interesting species waiting to be discovered and developed.
I really love my work."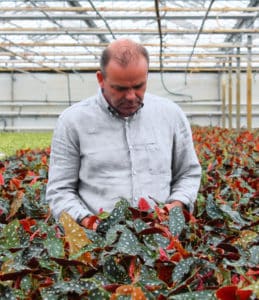 What, in your opinion, is your best find?
Senecio cephalophorus, also known as 'Mountain Fire'. which I found in a desert in Israel. This plant has an unusual grey colour, an excellent shape, and it's extremely resilient. It's really satisfying to see how well this plant has sold over the years.
That brings us to the greenhouse complexes for commercial cultivation.
Ultimately, the plants in the collection have to actually be sold in garden centres. We control the breeding of our species ourselves at our nurseries in Africa, Indonesia and Guatemala. Here in the Netherlands, we plant cuttings and  grow the plants. I love full-bodied plants, so we plant a lot of cuttings in each pot. The company is proud of its range, and we obviously only want perfect plants to be offered at the point of sale.
What's your relationship with Javado?
It feels like we've been cooperating for a long time. We work together at trade fairs and share information. That benefits us greatly, and we're more than happy to give something in return. Our range is fully adapted to the ins and outs of Javado's day trade, and Javado is at the top of the list if we have novelties.
How do you see the future of Smit Kwekerijen?
Our company is continually progressing, and the keyword is growth.  That doesn't just mean growth in terms of quantity, It's above all about growth in quality. We're more and more concerned with operating sustainably. Our rural environment is a blessing in this respect, because we have space for this kind of growth. For example, I'm investigating whether we can store heat with heat panels.
The other thing I've never stopped doing is discovering wonderful plants, and at the end of the day that is what keeps our nursery going.
Published on: 18 February 2020