BLOG: GROWER REPORT PLANTANIOUS
Twin brothers Freek and Joost Jansen both think green and act green. They have managed to set up a CO2-neutral cultivation system in their modern plant nursery, where the motto is 'Surprisingly green'. We decided it was time to find out more about the ambitions of these young entrepreneurs, and arranged to meet Joost.
Can you tell us about the history of the nursery?
My dad, Loek Jansen, started a pepper nursery more than 50 years ago. 22 years ago, it switched to growing pot plants. We grow ficus and flowering seasonal products, such as container plants on stems, Peruvian lilies (Alstroemeria) and rocktrumpets (Mandevilla).
Did you and your brother always plan to carry on with your father's business?
No, quite the opposite. We were more interested in studying than our dad's nursery. The turning point came in 2011 when a bypass was built where the nursery existed at the time. Dad was faced with the choice of either buying a new site or retiring. After discussing the options, we decided that we'd go for it completely. My brother is responsible for cultivation, automation and staff, and I take care of sales and marketing.   
How do you combine growing ficus and seasonal products?
It works perfectly for us. When the peak season for container plants is over, we place them all close to each other ready for the following season, which saves a lot of space. We use this space for ficus. After sales of ficus peak in January, sufficient space is again created for container plants just when we need it.
What makes your products special?
Quality is the basis, of course, but our real distinguishing characteristic can be summed up as 'surprisingly green'. This refers to the sustainability of our company, and the innovative products that we introduce to the market.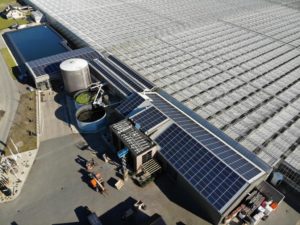 How sustainable is your company?
Geothermal energy supplies all the heat we need, so we no longer burn any fossil fuels. [Read all about geothermal energy in our sustainability special on page 41.] We also have 1,050 solar panels, so we're completely self-sufficient in terms of energy. Crop protection is 95% organic. Our closed water system means we don't create any wastewater. We've achieved a lot, as you can see, and we're trying to increase sustainability wherever possible. As an example, we're currently trying out a new type of organic potting soil.
So, what surprises have you got lined up for us?
We regularly launch new, original products. In August, we'll start marketing a really beautiful ficus: Ficus Mangrove Tree. Together with Javado, we won the New Product Award  for 'Best new houseplant' at the National Plant Show 2018.
The biggest surprise, however, is our new look. Nursery Loek Jansen is now called Plantanious, and all our plants are now going to be marketed under the Plantanious brand. We want our plants' honest origins to be visible to consumers.
As a customer, what does Javado mean to you?
Our set up is perfect for growing sustainably and supplying products for the day trade, which makes Javado an ideal partner considering their customers and working methods. Javado is a very important partner for us in terms of turnover and from a  strategic perspective. We also like to test out new products with Javado.
What are your plans for the future?
We want to show the world how great it is to grow completely sustainably. In our opinion, consumers think this is very important, and this trend will only grow in the future. Of course, we'll also continue to surprise the market with new products, such as the broad-leaved ficus we're currently testing and which reflects current trends.
Published on: 17 Julho 2019