BLOG: Grower Hopmans
Less than 100 years ago, this upper part of Holland wasn't land at all, but sea. It was reclaimed in 1930 to meet the demand for more agricultural land. I'm currently on one of the many farm plots. Each plot might be exactly the same size, but this one is different: Rudolf Hopmans has switched from arable farming to horticulture. I'm interested in finding out more about the nursery that originated here. Rudolf is waiting for me under his large windmill, ready to start the tour of the nursery.
My grandfather and grandmother were one of the couples selected to move to the polder when it was ready to be inhabited around 1939, so this is a real family farm. I came into contact with floriculture when I was studying. After working in the floriculture sector for several years, I started dreaming of running my own plant nursery. In 2007, I started talking with someone from the Addenda growers' association. All the growers in this group work really well together. They helped me take my first steps in growing plants. Initially, we combined this activity with our arable farming, but I was dedicating more time and effort to growing plants, so last year we switched completely from arable farming to horticulture.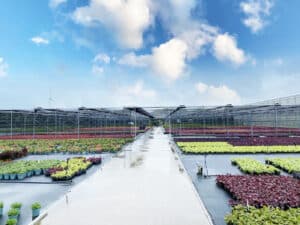 What plants can we expect to find at the nursery?
Hebe Addenda is a very important crop for us. We used to be the smallest Hebe Addenda grower, but now we're the biggest. The other crop in which we're a major player is Heuchera. Together with grower FN Kempen, we supply the Heuchera Indian Summer series.
We're walking through some modern greenhouses now, what are they for?
When the young plants have just been potted, we first put them in the greenhouse to get them off to a flying start. Later, we move them to the outdoor fields, where they can grow into strong, resilient plants.
Now we're outside, I can see work being carried out in the distance on a brand-new area for outdoor cultivation. It's a great opportunity to see how the outdoor container field of a modern garden plant grower works.
We're expanding, and we've created a new container field. First, the drainage pipes are laid in the ground, then covered with a layer of 10-cm crushed lava. This is then covered with a layer of fine crushed lava, which is levelled and compressed. After the resistant root cloth is placed on top, the area is ready for use.
We put the plants in the cultivation pots on the container field. If it rains heavily, the excess water quickly passes through the porous rock to the drainage pipes. We collect all the water in our water basin for reuse. Some water is retained in the crushed lava. If it's very dry, the plants can absorb this water from the lava. 
Hebe Addenda is extremely popular with our customers. Why do people find this plant so attractive?
The genetics of the Addenda varieties have been very good for about six years now. We grow a beautiful range of strong, dense varieties. As a result, consumers have been rediscovering flowering Hebes in recent years. I think it's about the overall appearance; the graceful spherical shape of the plant, the glossy leaves, the intense colour of the flowers, and the fact that they decorate the garden from summer through to winter and provide butterflies and bees with nectar.
The trick now is to keep improving and innovating. Initially, a Danish company was responsible for breeding Hebe Addendas, but we've since taken it over. I hired a breeder and set up part of our nursery for breeding, with all the equipment needed.
What beautiful products can we expect in the future?
Last year, the new 'Vinoa' variety with wine-red glossy leaves and purple flower panicles was introduced, and it was highly successful. 'Vinoa Pink' will follow soon, basically the same plant but with pink flower panicles.  
One very exciting new variety that we'll be introducing is the 'Mucha'. All our Hebes bloom throughout the season, with a number of flower panicles in bloom until the frost. 'Mucha' is different, however, as it's a floriferous variety that amazes onlookers with a sea of flowers that all bloom at the same time. We believe it will become an irresistible impulse product in the retail environment. When the plant has finished flowering, there's a good chance it will flower a second time.
Furthermore, breeding is about improving existing varieties. We want our plants to have a resistant nature, so that it's in a good position to nip diseases and pests in the bud. Our company is called 'Natuurlijk Hopmans'. We like to let nature flourish, and we don't like using plant protection products.
Is there anything else you'd like to say to our readers?
We're in a fortunate position, because our main crops Heuchera Indian Summer and Hebe Addenda are very popular. In fact, demand has outstripped supply in recent years. My favourite outlets for this product are florists and garden centres. We enjoy working with Javado as a partner. We try to deliver orders to Javado as well as possible, but it would be a big help if these orders arrived well in advance. So, don't wait any longer, and order the Hebes in advance from the Javado webshop.
Published on: 12 August 2021