Javadoplant and Smiemans Projects. Two different companies, but both part of the garden centre industry. Over the years, we've got to know each other better during trade fairs and study trips. General manager Jeroen Smiemans gives Javado Magazine an insight into his world. Completely transparent, but nothing less could be expected from the specialist in innovative glass structures.
Jeroen: I do miss those trade fairs and study trips. The different people you meet in the world of garden centres give a lot of energy and insights. Although Covid-19 has actually boosted the garden centre industry. People are spending a lot of time in their homes and gardens. They want to bring nature into their homes, and enjoy their gardens or balconies. A garden centre is a spacious environment, safe for children, where shopping is an experience. It's still an uncertain time for garden centre owners. It sometimes means large projects, such as building or renovating a garden centre, have to be put on hold for a while. I think we'll be able to get stuck into our work more as soon as business owners have more certainty.
Plants and people under glass
We're a family business. Fifty years ago, my father started a greenhouse construction company, but rapidly began to specialise in special projects. We mainly build garden centres and botanical greenhouses. Plant growers only have to take into account the ideal climate for their plants, but in our buildings both plants and visitors have to feel comfortable. If the temperature is 28 ºC and the humidity 80%, it's not a pleasant place to shop. We have some great innovative solutions that resolve this, and save energy at the same time.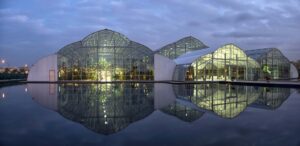 Thinking from the inside out
Climate-proof construction is an important topic these days. We take into account heavy showers and dry summers with high temperatures, which will become increasingly common in the future. The Netherlands is considered a global leader in climate technology, you just have to think of the use of insulated glass that helps to absorb large temperature fluctuations. It's also essential that we build structures that are waterproof even during the worst downpours.
When designing, we think 'from the inside out'. A garden centre consists of various departments, so we first look at what is sold and the conditions required for each department. Nobody wants a department with candles and pillows in full daylight, as the products could discolour. The hot greenhouse can be light, but it must be possible to partially darken it for Christmas sales from autumn. Once we've made an inventory of all the departments, we devise the ideal shell to surround them with. Where daylight is needed, we make sure it's there, where no insulation is needed, we can use cheaper building methods, and so on. From our point of view, a garden centre is a smart chain of departments.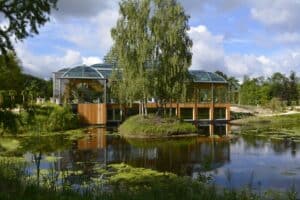 Biophilia of course
Although we might be fascinated by climate technology, it is of no interest to the average garden centre consumer. They're more interested in pretty plants, a garden table, some advice, or maybe just a nice afternoon. The question we deal with a lot is: how can the building positively influence the consumer experience? Social awareness about climate change and nature conservation has increased enormously. The consumer feels the need to cherish nature. Successful garden centres ensure that their customers feel close to nature. Our design and construction can have a bigger impact than you might expect at a first glance. We call this biophilia; nature as a source of inspiration for the building.
In other words, it's a good idea to create a botanical environment when designing a garden centre. It doesn't necessarily apply to the entire garden centre, as some areas can be purely functional. However, if you show off here and there with some special highlights or features, you immediately create a feel-good effect. We recently completed a garden centre with a structure partially made of wood. The link with nature and the environment this creates immediately catches the eye. An inner garden or a large wall with a vertical garden are other good ideas.
Garden centre of the future
What will the garden centre of the future look like? In my opinion, flexibility is the keyword. It's no longer the case that consumers mainly visit garden centres in the spring. Garden centres have to look good all year round, and constantly change appearance to keep surprising consumers. Technical solutions that allow you to easily adjust departments and walking routes can be of great help here.
I also think an outdoor department with a flexible roof is another good example. In good weather you really are outside, and in bad weather the canopy closes so that you can still enjoy shopping.
Did you know that we organise a round-table event every year? We invite garden centre professionals from various countries to share ideas, discuss important topics, and think about the future. It's interesting to see how opinions can differ from country to country. In the end, it comes down to us being challenged by clients to build a future-proof, affordable garden centres, which clearly express each individual client's identity.
Published on: 10 Junho 2021