Leucothoe – Must have of the season
Leucothoe is a shrub that gives color to the garden all year round. But did you know that it belongs to the ericaceae (heather) family? You can clearly see it in the flowers. In Dutch it is called Druifheide (Grape heather). The bunches of flowers are reminiscent of bunches of miniature grapes. In English it's known as Doghobble. The plant flowers in May-June.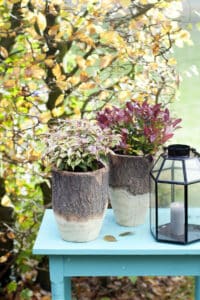 If we are going to parse the scientific name, "Leuco" means white. The color of the flowers. But probably the name comes from a princess from Greek mythology named Leucothea.
It is a strong shrub that certainly stands out in the winter thanks to its colored leaves.
Care
The Leucothoe does well in a spot in the garden with partial shade. It can also be very decorative in a pot on the patio. They do like slightly acidic soil. The more the winter sun shines, the redder the leaves will become.
Types
There are several species including: Leucothoe axillaris, Leucothoe keiskei, Leucothoe walteri, and Leucothoe fontanesiana. Just take a look at the range, you will come across a wide variety of leaf colors and leaf shapes.
Availability
We currently have an extensive range available. It is one of the trendsetters in the winter garden plant department in the garden centre.
Leucothoe axi 'Curly Red': what makes this Leucothoe so special is that it has curled leaves. These leaves also have the same red leaf color as the other Leucothoe's.
Leucothoe axi Zeblid: its leaves have the deepest shade of red in winter. The leaves are elongated in shape. Really a feast for the eyes in winter.
We also have:
– Leucothoe axillaris Twisting Red and Redlips
– Leucothoe keiskei 'Burning Love'® and Royal Ruby
– Leucothoe walteri Rainbow and Lovita and Dark Diamond
So plenty of choice! Go to our webshop quickly for our up to date range.
Published on: 19 Janeiro 2023