Kwekerreportage: Karma plants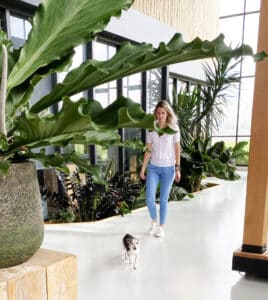 Imagine, you've built a wonderful life on the Caribbean island of Aruba, when suddenly your brothers call; we need you, can you come back to the Netherlands?
That's exactly what happened to Lydia about six years ago. At the time, the family nursery was rapidly evolving into an amazing company, and the brothers realised that the only thing missing to make it perfect was their sister. I'm sitting at the table with Lydia in the modern reception where she talks passionately about the family's pride and joy; the Karma Plants nursery.
'When my father was still growing vegetables, he had a greenhouse where he grew plants as a hobby. That was his passion, so it was only logical that he eventually converted the vegetable company into a nursey for potted plants; Anthuriums to be precise. Karma Plants was born 23 years ago, based on the motto that still lives on today – if you're good to those around you, good things will also come your way. The main aim was, and still is, to combine outstanding quality with sustainable working methods.
The nursery relocated and expanded. When my brothers Maurice and Glenn join the company, it signalled some major steps forward. Glenn is a technical genius, and arranges ingenious automation solutions. Maurice is an expert in the European market, and plays an important role in developing the range, among other things.
I joined five and a half years ago after I had been living in Aruba for fifteen years. Even though I had a great job there, I immediately and impulsively said yes when my brothers called me. As a graphic designer with a lot of experience in marketing, I can use my skills to show the outside world all the great things our nursery is doing. Maurice and I study the European market so we can develop an appropriate range with the very best appearance. I love designing new packaging, labels and printing on cultivation pots, for example.'
Your plants are easy to recognise because they're supplied with a Waterwick®. How did that come about?
'In the first place, it's designed to make things easy for the consumer. If you buy an Anthurium from us, all you need to do is make sure there's some water at the bottom of the overpot. That's because the plants are already cultivated with the Waterwick®, and thrive really well with this system. The plant itself regulates the water supply. When it needs water, it sucks it up. That's good news for consumers, because they can enjoy our beautiful plants for longer. We're very happy to know that a plant is going to be a success in someone's living room.'
Is it also related to your peat-free policy?
'Yes, but that's a fortunate coincidence. Years ago, before the wick was an integral part of our cultivation but already being tested, I watched a film about peat extraction. I spoke to my brothers immediately, because it showed that the peat in our potting soil was an unsustainable aspect of our product. We had to address that. Peat in the potting soil mixture is very good for retaining moisture, so we thought the Waterwick® method could offer a solution, which is exactly what we discovered.
All our products in 7-cm and 9-cm pots are now completely peat-free, and we have considerably reduced the amount of peat in our 12-cm and 17-cm pots. And I have some important news; in 2024, the last two pot sizes will also be delivered completely peat-free!'
Now that we know that your plants are grown with an eye for sustainability and quality, can you talk a bit about your range?
'We've put in a lot of work on developing our range in recent years. I'll tell you more about that later, but first our main crop; flowering Anthuriums. We're very proud of the breadth of our range, which includes flowers with special shapes, unusual colours, small flowers, large flowers… we have it all. I'll highlight a few. Anthurium KARMA Joli is an extremely attractive variety. It's only available from us, and excels in terms of the plant structure and number of flowers. There are now four different colours available. We can also  combine these very nicely in the Anthurium KARMA Joli duo, where two colours are grown in one pot.
The Anthurium KARMA Million Flowers is also a well-known name in the market. It looks like a bouquet full of small, red flowers, and is available in all our pot sizes. At the end of this year, we'll also be introducing three new varieties [see box].
Besides our flowering Anthuriums, we also have fantastic jungle plants, such as Alocasia KARMA Tigrina, Philodendrons, such as KARMA Whitestripe, KARMA Pink Princess and the leaf Anthurium KARMA Birdnest. We run a special department where we do our own breeding. Maurice shares our father's passion, and spends many hours there. Let me show you something special…'
We walk over to a corner with Anthurium crystallinum. Lydia turns on the flashlight on her phone.
'Did you know that the name crystallinum refers to the light reflection in the leaf? If you shine a light on the leaf, the leaf veins start to sparkle as if they contain crystals. And if you illuminate the underside of the leaf, the spectacle is really awesome. Everyone has a phone with a flashlight these days, so it's a great way to show off this plant on the shop floor!'
Finally, do you have any specific wishes for the future?
'We can only achieve our mission to get consumers to enjoy responsibly grown quality plants with the help of long-term business relationships. I'm delighted we're appearing in the Javado Magazine. Our relationship with Javado already goes back a long time, and the growth you've achieved with us over the past two years is spectacular. I hope that lots of people working in the garden centre sector read this, and also become fans of KARMA.'
Published on: 14 Novembro 2023