Garden trend: the wild garden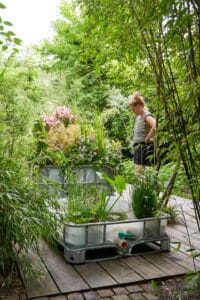 Garden plants with a 'wild' look are incredibly popular. Among current garden trends, the wild garden really comes to the fore. Nature is welcome in the wild garden. The 'wild' consumer prefers a wide array of plant species and colours to geometric planting with just a few species.
We noticed the growing popularity of this trend in 2022, when the jury voted A Rewilding Britain Landscape Best in Show at RHS Chelsea Flower Show.
There's space for living greenery everywhere we look. The more colour in the garden, the happier and healthier it becomes. One big advantage of a natural garden with a wide range of plants is that it virtually looks after itself once a natural balance is created.
Plants play the leading role in this trend, supported in a secondary role by natural materials and creativity. Structure is provided with stones, tree trunks, recycled wood or recycled bricks.
We went on a search for the best plants for the wild garden in 2023.
Lush, creative, biodiversity, recycle, sustainable
Grasses
Perennials obviously form a part, but we'll start with ornamental grasses. They form the lush base through which flowering plants are woven.
Perennials
Winding paths through wild borders take precedence over uniform, demarcated planting. Numerous different perennials, with random colours and forms, can be strewn in these wild borders. A feast for the eyes and a paradise for insects.
Here are our favourites for 2023.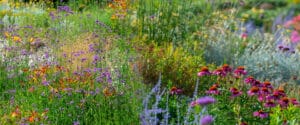 Sunny position
Salvia is an essential element in the wild garden. Insects, such as the hummingbird hawk-moth, love it. In terms of sales, Salvia nemorosa is the most successful Salvia. For 2023, we recommend that Salvia microphylla is also put in the spotlight.
Nepeta, with its fragrant leaves, is resistant to heat and drought, and blooms for a very long time. The Purrsian Blue variety has a nice, round shape.
Coneflower is a favourite among many garden enthusiasts. The Mooodz series is known for its strong growth and flowering.
By planting low-growing geraniums, you can create height differences in the border. Are you familiar with the Geranium Intense, and its bright pink flowers?
Sedum spectabile is a real magnet for butterflies. 'Spot On Deep Rose' is a very compact sedum with large flowers and intense colours.
Achillea's sales figures prove how popular the wild garden has become in recent years. This perennial wasn't particularly appreciated until three years ago, since when sales have skyrocketed.
Verbena bonariensis: Hi there Wild Garden! I'm essential. Give me space to flourish and I'll reward you with flowers until winter, and be back the following year in the most unexpected places.
Lythrum: Purple Loosestrife is a perennial with long flower spikes, very pretty in combination with other plants. It's an important plant for butterflies.
Heat-resistant, performs flawlessly in the garden, and produces beautiful flowers; Armeria Ballerina has everything it takes to become one of the stars of 2023. Also available in white.
The red-hot poker Kniphofia makes a real show for the adventurous garden enthusiast. This garden plant needs plenty of sun.
Shade / partial shade
Aconitum blooms in spring, with purple flowers with a yellowish calyx appearing on sturdy stems. It flowers for a second time in autumn, and thrives in light shade.
Brunnera Silver Heart prefers a sheltered spot, where its silver leaves form a beautiful contrast with the surrounding vegetation. The blue flowers look very similar to forget-me-nots.
Polystichum is a handsome, fine garden fern that does well in a shady spot. Experience has shown that this fern can also withstand dry periods.
Ajuga: Blue bugle Ajuga is a ground-covering perennial that thrives in light shade. It acts as a host for a species of mini butterfly, and has a lovely scent.
Foxglove does well in the sun and shade.
Aquatic plants
A water feature, whether a large pond or a zinc tub, is very much at home in the wild garden.
Herbs
Herbal plants are popular. They can be used to create a pretty herb garden, but it's also becoming more common to see them planted in a mixed border.
Bulbine frutescens medicus: If the leaf is crushed, a greasy substance is released that provides effective relief against insect bites.The stalked bulbine produces beautiful, yellow/orange flowers, but can only tolerate light frost (-4 °C).
Mentha spicata: This herb, which is used in Moroccan mint tea, is a lovely plant in the garden.
Agastache Beelicious Purple: Butterflies and bees love the long-lasting purple flowers. This scent of this strongly aromatic plant resembles liquorice.
Published on: 11 May 2023