BLOG: grower report Apartus
The Apartus nursey is located in the heart of the horticultural area of Westland in the Netherlands, a stone's throw from Javadoplant. The company is our main supplier of Pelargonium grandiflorum, and also grows a number of other voluminous products. It's high time to get acquainted with Don Bruinen, the grower who puts his heart and soul into his work.
Let's start with your nursery's name. Where does it come from?
We grow peppers and potted plants, which is quite distinctive, or 'apart'. Hence the name Apartus. Our grandfather and our father were growers before us, now my two brothers and I have taken over the business together. The roots of our company go back to 1950, and the nursery with the name Apartus has existed since 2007.
What pot plants do you grow?
We are known for our Bella Donna Pelargonium Grandiflorum, so that could be described as our main product. A number of other plants have been added over the years, namely Angel Pelargonium Grandiflorum, Dahlia Suniq, Hibiscus Suniq and Cyclamen.
What makes your products special?
We breed plants ourselves, and make 40,000 new crossings every year. We assess the results on the size of the flowers, the plant's composition, and the length of time in bloom. In the end, about 3 varieties remain each year that we add to our range.
Our Grandiflorum's are therefore distinguished by their large flowers, density of buds, extended flowering period and spectacular colours. The dahlias and hibiscus we supply also bear exceptionally large flowers.
What do topics such as climate and sustainability mean to you?
They mean a great deal! We use biological crop protection wherever possible, such as insect predators. All waste is separated for reuse. We use geothermal heat to heat our greenhouses. Water is pumped from a depth of 2,200 metres through our heating pipes in the greenhouse, after which it is returned to be heated by the earth again.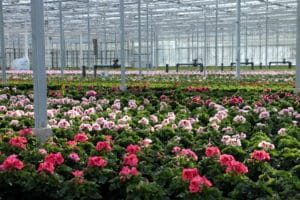 What does it mean to you to have Javadoplant as a customer?
We thoroughly enjoy working with Javadoplant. Everything is discussed properly, and the communication is excellent. Basically, fantastic!
What are your plans for the future?
At this moment, we're converting the pepper greenhouses into plant greenhouses, because we're going to grow more pot plants! We'll have some nice crops ready by spring 2019: the Bella Fuchsia, Pelargonium zonale Toscana, Pelargonium peltatum Toscana, and a novelty, the Helianthus Sunfinity.
These crops are perfect for our company, and we've noticed a big demand for them from the market.
Published on: 8 Março 2019