BLOG: grower report About Plants Zundert
I'm on my way to About Plants Zundert on a beautiful autumn day. In fact, I'm going to visit two nurseries that have joined forces. This visit is taking me to Zundert, a region that's home to a large number of tree nurseries in the province of Brabant. Jelle and I get into a golf cart, and take a look into every nook and cranny of these large nurseries.
Can you tell us something about the history of About Plants Zundert?
Ron van Opstal had a nursery, as did his brother-in-law and sister, Hans and Josie Jochems-Van Opstal. About 15 years ago, they decided they wanted to increase trade with exporters so they could supply garden centres outside the Netherlands. This involves a lot of work at both commercial and administrative level. Growers Ron and Hans would rather be tending their plants than staring at a computer screen, so they decided to set up 'About Plants Zundert' as an umbrella sales organisation. Together with my colleagues, I make sure that our enormous range appears on exporters' digital supply banks, that quotations and proposals are drawn up, and that the daily trade runs smoothly.
It's all running really well. I also visit other nurseries here in Zundert without links to the exporters, and if the quality of their range is flawless and complements our range, then we also offer their plants under About Plants Zundert, and make sure that they're included in the daily trade as quickly as possible.
"Our plants bring colour to the retail environment, and

gardens of course "
What does your range look like?
These are garden plants with a big visual appeal. Our plants bring colour to the retail environment, and gardens of course. We're very good in colourful shrubs, such as Pieris, Leucothoe and Nandina. Our range also includes conifers, callunas, skimmias, gaultherias and ornamental grasses, as well as lots of other original garden plants.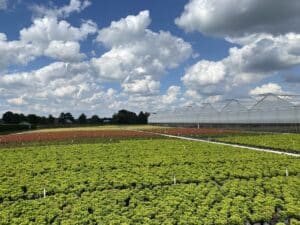 Do some plants deserve more space in retail displays than they're currently getting?
I think the Nandina is a fantastic plant that has a lot to offer the garden throughout the year. We have a new variety; the Nandina Blush Pink. The green leaves have a pink glow to them, and from mid-September they turn a beautiful orange. They're highly recommended for garden centres at this point.
Another favourite of mine is Andromeda, perfect sphere shaped plants that look a bit like lavender. We sell these evergreen plants all year round, with a peak in the spring when they bloom.
I think Euonymus Himalaya will be a hit next spring. This plant with beautiful green leaves has top shoots that turn white, giving it the appearance of a green mountain with a snowy peak.
Most of your plants are now sold in garden centres. How do you view the future of this sector?
We're still really pleased that we linked our nurseries with garden centres. There's an enormous amount of growth, and pleasant dynamics. I've noticed that garden centres can now sell plants in more expensive segments as well, besides the standard 13-cm, 17-cm and 19-cm segments. We grow a number of shrubs in 32-cm pots. Garden centre use these as 'living advertisements' to improve sales in the conventional segments, but they've also noticed that these big eye-catchers sell very quickly.
As you can see, we're also very busy today. I'm very positive about the garden centre sector.
How are you enjoying working with Javado?
We're very happy with it. If no order from Javado arrives for a day, we immediately check whether there's a problem with the internet, because Javado really does send orders daily. You're growing enormously, and you share your thoughts with us. All our staff know Javado, and gladly make that little extra effort.
Published on: 18 December 2020