New peat-free houseplant concept exclusively for Javado customers
New peat-free houseplant concept is exactly what the consumer is looking for
Do you recognize this? People are looking for a houseplant, but are afraid to buy the larger one they really like. They are unsure whether the plant will survive with them. You will convince them and all other plant lovers with the range of "Beautanic Lifestyle". They are as easy to maintain as they are beautiful.
 Together with plant exporting company Javado UK, the grower Marcel Duijvesteijn introduces this new and unique garden centre concept in the UK and Ireland. Find out what the secrets of this new brand are.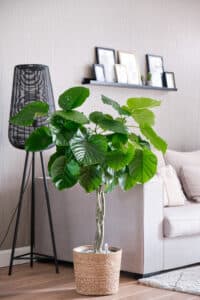 Water roots
There's something very different to the way the plants are grown: no potting soil (no peat!) is used. The plants are grown hydroponically. This means these plants develop a totally different root system. We call these 'water roots'.
Having developed these water roots, the plants are a lot easier to maintain. Where normal plants will rot away if their roots are always wet, plants with water roots will thrive in these conditions. Where normal plants will dry out when they don't get enough water, the hydro system with which the plants are delivered, makes sure this won't happen. All anyone has to do is refill the water reservoir when the water indicator shows a low level of water.
Quality that shows
The water roots always have water available. They will regulate how much water they'll use. The result is that you have very happy plants. But there's one more secret ingredient: super food! Besides water, the plant needs nutrition. The grower has developed the perfect mix of nutrients for plants. It's a powder that comes in a little pot with a lid and is nothing like the plant food that well-known brands often offer in liquid form. When you refill the hydro system, just mix in a teaspoon with 2 liters of tap water. The PH will go to 5.5 and the plants will be able to take up all the nutrients.. The results are amazing. Now anyone can get those lush green leaves that they dream about. No green fingers needed.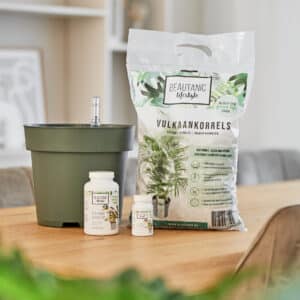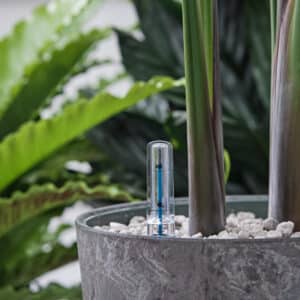 Not your average hydro system
When you think of hydro plants, you think of those round, brown hydro-granules. Beautanic Lifestyle has found a different type of granules: lava rock granules. Just like the hydro-granules, they absorb water and add oxygen. But thanks to their sharp, jagged shapes, they ensure that the plant is much more firmly rooted. Another big advantage is that it's a natural product, whereas hydro-granules have to be manufactured using very high temperatures.
It may already become clear that Beautanic Lifestyle leaves nothing to chance when it comes to their concept. They have designed the plastic pot with the water reservoir and indicator themselves. It all adds to the desired end result: growing the best hydro plants at normal plants prices.
Garden Centre Display
When you offer these wonderful plants in a garden centre, you want them to stand out. You want the customers to know why these plants are so beautiful and easy to maintain. That's why the Beautanic Lifestyle has developed a garden centre display. You will receive the special display with three levels, the leaflets and the large banner for free along with your initial order. There's the possibility to get a small TV-screen (requires a deposit) continuously  featuring a video with subtitles explaining the advantages of water roots.
Some people will want to convert indoor plants they already own into such hydro plants. That is easily possible and that's the reason why, along with the ready to use plants, a number of empty hydro pots and bags of volcano granules are included in the initial order.
Don't hesitate to contact us if you're interested.
More information in this video
Published on: 20 October 2022