Kwekerreportage: Ter steege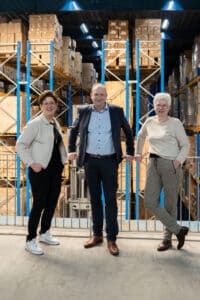 What makes the grower report in this edition of the magazine so unusual is that for the first time it's not about a grower, but a pottery supplier: Ter Steege, a well-known name in the worldwide garden centre industry. Javado and Ter Steege have developed an excellent partnership that keeps everybody involved happy, so for once I didn't find myself wandering between growing tables with plants, but alongside Ineke ter Steege amongst towering racks of ceramics. She showed me the atmosphere in the design department, and noticed my amazement when we entered the enormous showroom. But let's start at the beginning, which was way back in 1933 for this family business.
Congratulations on your anniversary! Can you paint me a picture of the company 90 years ago?
In 1933 Albert ter Steege, my grandfather, started a trade in galanteries, an old collective term for trinkets, baubles, accessories, and decorative objects. He travelled with his sons Willem and Jan by horse and cart doing house-to-house sales, and looking for the best products in Germany. In the early days, he literally had to find the ceramic factories. It's unimaginable to us now, but they travelled for days on end, then asked at a local post office if anyone knew of a nearby brick factory! However, this did enable him to buy goods at the source and set up a formidable network.
Over the years, the company has grown with the spirit of the times. A warehouse was erected for stock, and an oven built so that my grandfather and his employees could paint and fire plates and jugs. The passion for this company is ingrained in our family in exactly the same way that a painting is ingrained on a vase. I think grandpa would be very proud to see what Ter Steege has become today. I'm not just referring to the fact that we deliver to 40 countries, but the passion for the profession and working together that has never left us.
Your pottery is now inextricably linked to the sale of plants in garden centres and florists. When did that really take off?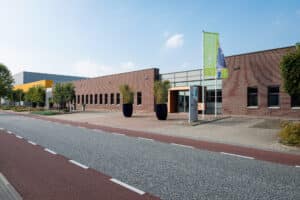 We sold a lot of crockery at markets, but the large retail chains started selling household products in the 1980s and our sales suffered. In the same decade, garden centres started to spring up, and we saw opportunities. Under the guidance of our father, we started to reinvent our company. We travelled the world to build a network with new manufacturers, with the goal of developing a range of pottery that would please everybody.
In the 1990s, we enjoyed a period of growth, but it was marred by the death of our father. My brother, sister and I were so young, and suddenly the fate of the company was shoved in our hands. In retrospect, I think we simply did a good job. We're a family business, not interested in short-term profits, but with putting our hearts and souls into our business dealings. Working together is still at the centre of everything we do to this day. It's all about the way we interact with each other in the company, and our relationships with our suppliers and customers.
Where does Ter Steege's strength lie exactly?
We design all our pottery ourselves using all kinds of different materials. Ceramics, wickerwork, metal, glass, hand-painted… we've got a bit of everything in our range, which is what makes it unique and appealing to a very diverse group of consumers.
We renew our range every year in the spring and autumn. As you can imagine, trends are very important to our business. Every year, our trend watchers define three trends that our design department further elaborate together with the purchasing department. We never sit back and wait for events to overtake us. Sometimes, I think that a trend is similar to what happened the previous year, but looking back over five years it's interesting to see how much has changed. I can draw a parallel to the work behind the scenes. Changes seem to be gradual, but in five years we've considerably improved our stock management and seen turnover of our indoor pottery increase enormously, for example.
I'm really happy to see how many people have come to appreciate houseplants in recent years. Young people have developed a particularly close relationship with plants, which is wonderful to see. There's been a big increase in the demand for pretty plant pots. We used to always sell significantly more outdoor pottery, but indoors now accounts for about half of turnover.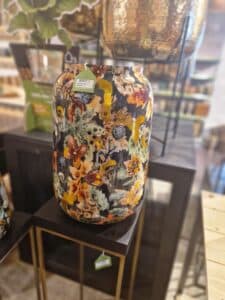 The design pots by artist Lammie have been a great success. Was that expected?
In fact, we had no expectations for them. It all started with a beautiful technique: a layer of molten glass on a metal pot with gold accents. The top layer is extremely strong and colourfast, so that deserved a really special design. We asked artist Lammie van Wieringen to create a number of designs. We're absolutely delighted with the results, and what's even better is to see the incredible sales generated.
Not everything we come up with is a success, but we don't foster a culture of pointing fingers or seeking retribution. If something doesn't work, we simply trust things will turn out better next time. Having faith in people is the way to move forward and give everyone the chance to do their best.
Are you ready for the next 90 years?
Absolutely. This anniversary year is not just about looking back. It's always nice to pay some attention to this kind of milestone and enjoy past success, but I prefer to look at what's happening now and to the future. What's important to me is building long-term relationships. Just look at how the partnership between Javado and Ter Steege has grown. Thanks to the special place we've been given in your webshop, we can satisfy the needs of many garden centres, who can easily order our range with their plants.
The next generation of Ter Steege is already working in the company. Together with all our customers and suppliers, we're one big family. Not forgetting Frank and Emily, of course.
Frank and Emily?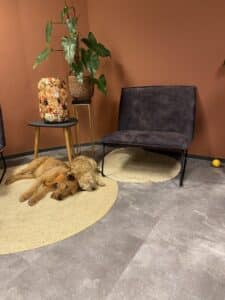 Frank is a young dog and Emily is a lady of a certain maturity. This cheerful pair are also part of the family.
Ordering is easy
Order before 11:00 AM on Wednesday for delivery the following week.
The showroom
In the showroom, you can enjoy presentations of the full range, as well as atmospheric rooms and examples.
Outdoor pottery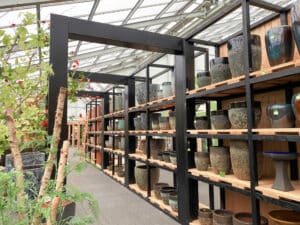 Glazed and metal outdoor pots are still Ter Steege's signature product. From small through large to gigantic, this range is second to none.
TIP: When viewing the Ter Steege range, go to the filter "Product Group" and select "Pots – Outdoor" to only see all the outdoor pottery.
Artstone
Ter Steege is Artstone's exclusive supplier. These incredibly light and strong outdoor pots are made from recycled plastic and stone powder.
All pots have a drainage system which enables plants to flourish for longer.
Published on: 1 August 2023