Hydroponics
Hydroponics, the trend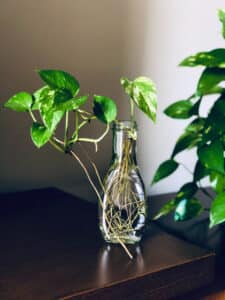 We have been seeing hydroponics for a while, but we are still very enthusiastic about it. For those who don't know what hydroponics is, these are plants that have their bare roots in a layer of water. When you have a clear glass with water, you can see the beautiful root system of the plants. It's  really beautiful how some roots grow. It will give you an extra 'Urban Jungle' feeling.
Which plants are suitable?
Different types of plants are suitable, such as the Clusia, Anthurium, Sansevieria, Phalaenopsis and Epipremnum. There are also a number of herbs very suitable for hydroponics such as rosemary, sage, lavender and basil. Wouldn't it make you happy if the kitchen also gives you a trendy 'Urban Jungle' feeling?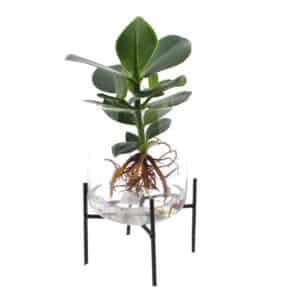 Taking care of your hydroponic plant
– Use spring water, this prevents limescale in the glass vase. There are also plenty of minerals in spring water which the plant can absorb.
– Change the water every 3 to 4 weeks
– Give the plants a drop of plant food when changing the water
– Make sure there is always enough water in the vase, so the roots can't dry out
– The plants like a light spot, without direct sunlight.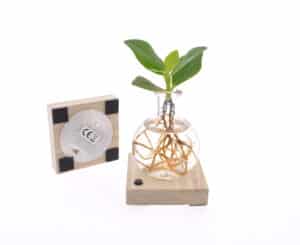 Style your interior with hydroponics
Ready to use hydroponics come in a lot of cool looking vases. Just to get an idea, we have listed a few for you. Some of which have LED lights which surely creates an extra eye-catcher in your home. It fits into an industrial style trend that is combined with tough elements such as black and steel. But it certainly wouldn't look out of place in a Scandinavian style trend that is combined with light tones and wood. A perfect item that 'blends' nicely into your interior. So don't miss this trend!
Gepubliceerd op: 16 november 2021