Grower report: Stolk-Flora
Phalaenopsis grower Jan Stolk feels very deeply that we have to take good care of each other and the planet we share. Many years ago, he put up a banner in his company that read, "Respect for the earth. Respect for people." What once began with a banner eventually led to 'Your Natural Orchid'. I wanted to know the background to this wonderful brand, and enjoyed a walk around the nursery with Jan, Koen, and the dog Jack.
You've been awarded the MPS-A+ certificate with the highest possible score. Does that mean your mission has been accomplished, Jan?
"You have to do what you say, and say what you do. It took a while before we put the latter into practice, as both Koen and I are humble people. I did decide to grow without using any chemicals at all, but I didn't make a song and dance about it. Only after we proved we were able to do that successfully did we decide to do something with it. The 'Your Natural Orchid' brand was created, and our sustainable packaging added as the cherry on the cake. If you're responsible for such a brand, then you must also have an MPS score to match, I think.'
What does a large grower have to do to get rid of chemicals completely?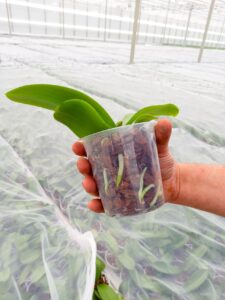 'For me, it was a very logical process. My time on Earth is relatively limited, but I do what I can while I'm here. I love creating beautiful plants, and I'm very proud that our orchids spread so much happiness. We might take a bit longer than our competitors to grow our products, and our costs are slightly higher, but we're well aware of all the advantages of organic cultivation.
I can't actually call it organic, by the way, as what we do isn't technically organic. We do grow plants according to the rules of organic farming, but because I use a form of chemical fertiliser as food, instead of organic fertiliser, we can't get EU certification.
But getting back to the point, there are all kinds of benefits to eco-friendly cultivation. First of all, for the environment, obviously. In addition, our plants are resilient, they have an incredibly long shelf life, and we don't suppress anything. Believe me; every time you suppress something, you create some other problem. That, by the way, is a very useful life lesson. If you suppress diseases with pesticides, you never really get rid of them. Dealing with diseases naturally is a much better option. Our approach is therefore to stimulate the plant's resilience, improve soil life, and provide an army of natural enemies. Ever since we've assumed the power of nature, I haven't seen mealybugs emerging at all, for example.'
Energy is another important factor in growing Phalaenopsis. What's the situation in your company?
'You're right, young plants need heat followed by a cooler period to encourage branching. Fortunately, the climate here in the west of the Netherlands is very favourable  It never gets really hot or really cold, so it's not difficult keeping the temperatures in greenhouses high or low. We do consume energy, but we've taken all kinds of limitation measures. We have a heat/cold storage underground that allows us to use hot water from the summer in the winter, and cool water from the winter in the summer. We've invested in an air-source heat pump, that can both cool and heat efficiently We burn the gas we use with a modern CHP system (see page 17). David Attenborough, who I admire deeply, has spoken positively about the innovative techniques of Dutch greenhouse horticulture. The government in the Netherlands is very strict, and has given us the task of reducing our gas consumption drastically. That's giving us a lot of work.'
Koen, you've been looking closely into the world of packaging materials. What have you concluded?
'That's right. I'm a member of various working groups, both with other growers and with people from outside our sector. It's taught me a lot. The use of materials is a complex subject, but reducing packaging is always positive! Why put a plastic sleeve on every plant you sell, if it's simply removed in the store? We were one of the first to introduce a paper tray wrapper, which allows plants to be transported without a cover. The tray is also made of paper, and even the clip which attaches the plant to the stick is no longer made of plastic. We haven't been able to find an alternative to the transparent plastic cultivation pot.
I've also been looking into footprints. We're going to calculate our horticultural footprint. Various companies can help with this, so we've thinking about who we'd like to get on board to help us with it.'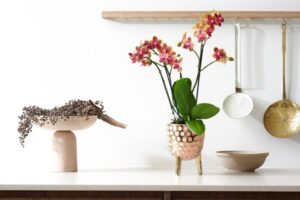 We still haven't mentioned the Phalaenopsis!
'Selling an orchid is selling emotion! Plants have the ability to give people peace of mind. A Phalaenopsis opens its flowers one by one, so people develop a bond with their orchid. That's only logical, because you can enjoy a flowering Phalaenopsis for a very long time.
Our range is based on a broad selection of medium to large-flowered varieties in the most amazing colours. We also have a number of house specialties, such as Flower Symphony, Angel, the Manta series, and our latest showpiece, the Bolgheri.
What are your plans for the future?
'We've already achieved a lot, but at the same time there's so much we don't know. I see it as a voyage of discovery. Nature still has an incredible amount in store for us, and we'll continue on our search for elegant solutions. One example; in the summer, there's a chance that thrips will enter the greenhouse from outside. We're trying to scare them off with garlic extract.
In any case, I'm very happy with how our organisation is evolving. A nursery isn't just about growing plants, it's about the people that work there. Every year, we choose an annual theme for our company, and this year's theme is balance. Nature is always looking for balance. Are you in balance yourself? The world is currently a turbulent place, and that throws us off balance. Four times a year, we all get together to talk about the theme, and then all kinds of ideas come to the surface.
I personally became unbalanced in the spring of 2020, when I had to throw my plants, which we had looked after for a year, in the bin. That really hurt me, but I'm glad to say that I've now recovered my balance.'
Published on: 1 September 2022