Camellia – Seasonal must have
If you come across a beautiful flowering shrub in the winter period, chances are it is a Camellia japonica. With beautiful large flowers that resemble roses and beautiful dark green leaves, it is a real gem in the garden.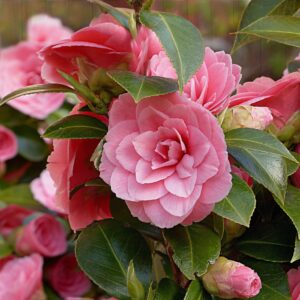 The winter bloomer is related to the tea plant Camellia Sinensis, which came to Europe via traveling salesmen in the 18th century. Please note, you cannot make tea from the Camellia japonica!
Historical facts about the Camellia
The plant has adorned Chinese porcelain and paintings since the 11th century, probably due to its unique flowering period. Camellia really is the queen of the garden in winter.
The Camellia was grown as a symbol of luck for the Chinese New Year.
In 1692, Europe was introduced to the Camellia. They were brought by the VOC. Since then, thousands of cultivars and hybrids have been bred.
Botanist Carl Linnaeus named the flower in honor of a Czech botanist Georg Joseph Kamel.
The Camellia has played a major role in the famous book by Alexandre Dumas fils; "La dame aux Camelias" (1848).
Care
The Camellia does not like to be in full sun. The soil should be slightly acidic, humus-rich soil, but not too wet. The Camellia is a hardy plant, but it is better to cover the plant during a fierce or long period of frost. The Camellia does not need to be pruned back, only, if desired, prune back some long branches after flowering.
Species
Many different cultivars and hybrids have now been bred. The Camellia is really a plant that has been further developed so that we can enjoy the beautiful flowers in special colors and shapes even longer. For example, a number of species can flower a little earlier and other species can flower a little longer.
Available from us
We currently have an extensive range available. It is currently one of the trendsetters in the winter garden plant department in the garden centre. We can offer the Camellia japonica as a mix. This item is really one of our "Top seller" products in the garden center during this period.
Camellia varieties are also offered by type in our webshop. a.o. we have the Black Lace, Nuccio's Gem, Bonomiana, Dr. King and Lady Campbell. There are even a number of yellow varieties in the webshop: Brushfields yellow, williamsii Jurys Yellow.
If we search carefully in our webshop, we even find the real tea plant Camellia sinensis. So plenty of choice! Go to our webshop quickly for our up to date range.
Published on: 14 March 2023