Blog: one of our clients in the spotlights
Meet Pépinières Rouberty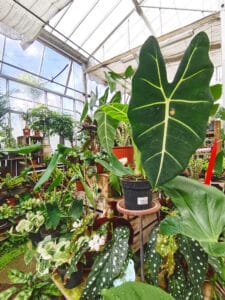 Les Pépinières Rouberty was founded in 1976 by Mr Rouberty, and has been managed by Pascal and Tony for the past 15 years. Our garden centre is located in the middle of nature, which defines the spirit of the place. We've noticed how much customers appreciate this. The site extends over 3 acres, with several water features and benches to rest on, so it's perfect for a walk. The customers also love our little cats who roam the area.
The company has been growing strongly, so Pascal and Tony have surrounded themselves with a team of professionals who give our customers all the help they need when buying our products, and advice on looking after plants. We're currently seeing a clear revival of interest in the plant sector, which reflects a longing for nature. This is something we promote in our daily work, by giving advice and introducing new plants. These can be rare or simply less known.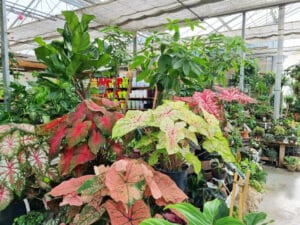 Indoor Plant Department
We have an area of 100 m² entirely devoted to indoor plants. As soon as we noticed that indoor plants were on the rise, we decided to create an "urban jungle" atmosphere in the department. It inspires our customers, and makes it easier for them to imagine how plants can make their interiors more attractive. Mathilde, who is in charge of this area, will listen to your needs and talk to you about what plants are best for you, where to put them, and how to look after them. To make the atmosphere extra special, we've built a jungle path with a volcanic rock floor (pozzolana) and Japanese stepping stones. In the bend of the path, you'll find a pond with goldfish. Ficus trees coexist alongside ferns, philodendrons, arecas, pachiras, alocasias, and lots of other species.
Our customers
We've noticed that the type of customer who buys plants has become very diverse in recent years. Lots of plants are bought because both younger and older people want to bring nature into their homes. Besides the fact that our customers are clearly becoming younger, we've also noticed that plants have become popular gift items. We've noticed that lots of young families are encouraging their children to share their appreciation for the beauty of plants. They buy lots of micro-plants and carnivorous plants. We're close to La Rochelle, a holiday resort, so we get a lot of interest from tourists who can't find a garden centre like ours near their homes, and take advantage of their stay to buy varieties they can't find elsewhere.
On social networks, customers share the green trophies that make their collections complete.
—–
Text and photos: Les Pépinières Rouberty
If you'd like to share the story of your store with us, please get in touch!
marketing@javadoplant.com
Published on: 20 Janeiro 2022