Blog: Esperit Elements
Does the name Esperit Elements ring a bell? It wouldn't surprise us, as they supply us with a cool range of plant arrangements, plant terrariums, and dried flower arrangements. The attractive Esperit Elements logo is a daily appearance on lots of customers' boxes somewhere or other. Not only are the products trendy, their premises are also a feast for the eye. Wouter Persoon was only too happy to show me around.
"We've been here for almost two years now, and it's fantastic. The entrance welcomes visitors with a spacious, high atrium, with all kinds of atmospheric corners and a living green wall as an eye-catcher. Our offices are next to the atrium, while our production area is located in a greenhouse. There's lots of daylight there, which only improves the quality of the plants we supply.'
How did Esperit Elements come into existence?
''During an evening course back in 2004, I struck up a conversation with Jan van Geest, owner of Esperit Plants. He told me about his plans to start a business next to the plant nursery that would specialise in making special plant arrangements. I wanted to be part of it, so we started Esperit Elements together. Our very first item back then was a small terrarium in a bathroom tile. It's funny to see that plant terrariums are in such high demand today, and that 17 years later we're making more of them than ever.'
What's the identity of your business?
'We create plant arrangements that are intended to lead the way when it comes to trends. By this I don't mean that we want to get ahead of trends, I mean we want to be on top of the most important trends, year in year out.
Another part of our identity is the excellent value of our products. Our motto is: quality first, then speed. We apply this motto at all levels of the organisation. We're always looking for efficient solutions, but this must never compromise quality.'
How do you manage to pick the right trends?
'Our products are organised in collections, and these collections are completely renewed every year. As a result, all the ceramics and decorative elements are always unique and completely up-to-date. Lieke and Rianne start working on a new collection no less than 14 months before it's launched.  The collection is completely ready at least 11 months in advance.
It's thanks to the work of these two colleagues that we've always got beautiful arrangements that match current trends. They visit trade fairs, follow trend seminars, visit supplier showr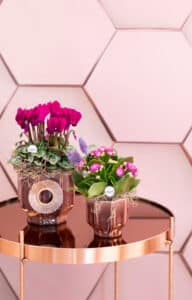 ooms, read fashion and interior magazines, and simply have a nose for what's going on. I think it's amazing that they can choose 40 pots in a showroom with more than 5,000 models available!
 "A plant terrarium is an ideal convenience product that will remain popular"
What trends are you expecting in the future?
'The desire to surround yourself with plants isn't a fad, and I think that this need for a connection with nature is a permanent trend. We expect lots of earthy tones for 2022. Plant terrariums have really taken off. This will settle down to a certain extent, but a good plant terrarium is an ideal convenience product that will definitely remain popular. Pots with faces, eyes, mouths etc. are still in the height of popularity, and all kinds of attractive variations. with fun, new patterns are in the pipeline.'
Javado places large orders daily, and can rely on fast deliveries. It's time to go to the production area. I'm really looking forward to finding out how they manage to make so many different, intricate arrangements to order.
'It starts with  storing our hardware correctly. As you can see, our pots and glassware already arrive in cardboard trays and boxes that are suitable for delivery on Danish trolleys. This means we don't have to repackage anything, and avoid unnecessary waste.
We've created a number of workstations here. 8 to 10 colleagues work on an arrangement on each conveyor belt. If you look here, you can see that the empty glass terrarium tank is placed at the start of the conveyor. The plant terrarium is then built up and finished, until the last person in the line cleans the glass inside and out. The terrarium is then ready for delivery. On a busy day, more than 70 people are at work here.'
Do you grow all the plants you use yourself?
'No, not at all. We do buy some of our plants from our parent company, Esperit Plants, but we also order items from lots of other growers. We keep a small stock, for which this greenhouse is ideal.'
If you could say something to yourself back in 2004, what would it be?
'Well, that's an interesting question! I'd say: don't be afraid to take steps, do business, and grow. Trust yourself.'
Are you exactly where you want to be now?
'We've got beautiful premises and a healthy turnover, but I'm certainly not intending to sit back and watch. I want to keep building our business. We're currently investing in young blood, such as Ramon who has turned out to be an excellent salesperson, and Mees who has just strengthened our team. They will take a lot of work off my hands, which will give me the opportunity to continue to keep an eye on the bigger picture and the market.'
Published on: 7 December 2021